Cisco Threat Awareness Dashboard - UX Strategy + Design
Hailed as the biggest thing to come out of Cisco in 20 years!
2015
ROLE
UX Analyst + Product Designer
I picked up this project after completing research and design of a new security communication solutions and had impressed the internal client's leadership.
THE CHALLENGE
A new product
– A static data dashboard for monitoring IT security of small or mid-size organizations, that would establish a new type of security product needed to be fleshed out. This Cisco team took a refreshing step back to create an IT security monitoring tool for the smaller organizations that could not afford Cisco's enterprise products.
Holistic Experience
How the user would navigate to this tool was unknown because most enterprise products are accessible and purchased from their portal through a rep, but this product would be sold directly to companies without an account person to reduce costs. We eventually worked this out with weight of creating a seamless experience, on the acquisition experience.
Design System
The established CSTG Design System included patterns to handle enterprise product experiences with large amounts of data and user groups. This product handled minimal amounts of data for a single or smaller set of users with similar tasks and needs.
Schedule
The development was behind due to lack of resources – UX and Developer. We were added to the project at the same time.
Agile
The project plan approached by dashboard view. I quickly pointed out that I would focus on designing design patterns that would be reused. I suggested that the schedule be reworked to focus on design patterns or widgets and visualizations, and then assembling views. This was adopted.
Understanding of UX
The team thought of UX more along the lines of visual design, and they were feeling pressured and concerned about scope creep.
THE PROJECT APPROACH
The two creators of the new product needed a designer, yesterday, to flesh out the interface design. They had mocked-up their ideas for a product in Excel (which was a great visualization). They were in a hurry to see wireframes. I produced the wireframes and began asking questions about the users, needs and questions around the general UX Heuristics of experiencing this type of product. Although at first I was excluded from meetings, within a week I was attending all meetings. Within a couple of weeks, the two creators wanted me to review everything and approve it before its release. This included the coded solution and marketing.

THE UX APPROACH
Once we had a visualization of the product, we constantly reviewed the experience to understand how the targeted users would experience the views and the subtasks that different scenarios would trigger. I recommended data visualizations to match the type the user needs to ensure the data visualizations were not only usable, but also useful. I harnessed my knowledge of color and data visualizations usability heuristics based mostly on the work of Cynthia Brewer and University of Maryland's HCIL.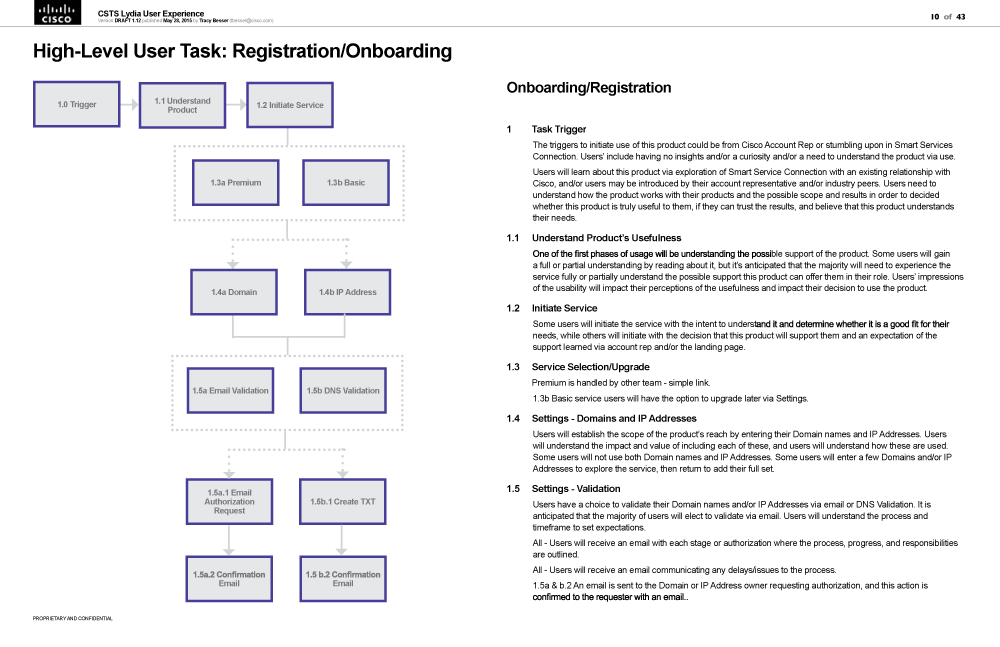 I used as many existing CSTG design patterns that would support the interactions and amount of data. In cases where the needs were different, variations of the existing design patterns were created based on the existing styles, and a 1 new pattern was required.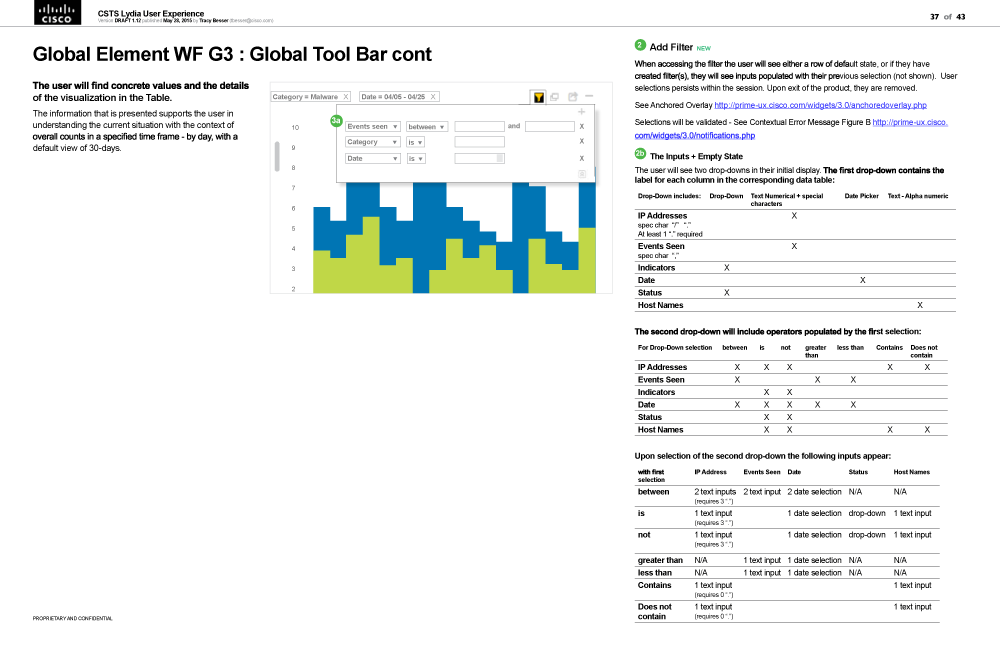 Validating Users, Tasks and Product Concept
I recommended, and did, test the product concept with a conceptual prototype to validate the reviews and get feedback on the labels of each view. This gave us insights into user priorities, how to distinguish free from premium service, validated assumptions about the user tasks to inform views, and validated the usefulness of the product for internal conversations.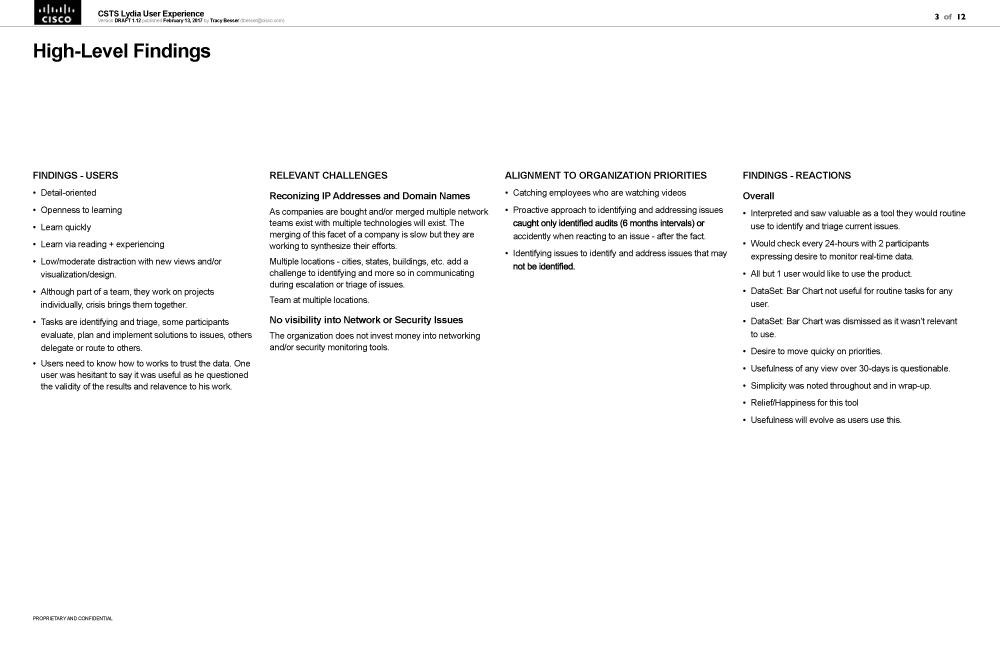 THE RESULT
Cisco's Threat Awareness Service was released February 2016, and noted to be the biggest thing to come out of Cisco in 20 years.