Working with POSSIBLE Cincinnati to provide an extra hand with a sudden surge in projects in fourth quarter.
ROLE
Contracted to cover a new contract's Q4 surge in work – Proposed and led UX Strategy, completed Responsive Design for rebranding.
THE CHALLENGE
Improve the usability and usefulness of the .Com holistic experience in a redesign to refresh the brand. This included moving to a Responsive experience.
Challenges included a redesign was pitched based on a page-by-page redesign over a year. UX is new to the design team, and not fully understood. Visual Design looks at UX recommendations as optional.
Improve overall user satisfaction with Elavon.
Increase user satisfaction of the site.
Reduce 30, 60, and 90-day attrition with small businesses.
Improve perceptions of brand.
THE APPROACH
I quickly convinced POSSIBLE Cincinnati to pitch to their client – Elavon, to anchor the redesign in a UX Strategy to support the "page-by-page" redesign they just sold to create a unified vision of what needs to be built and how it will be used to avoid creating or chasing issues and creating a site that will support holistic experience.
To begin, we needed success clearly defined. We reviewed site redesign and business goals with the client to understand conversations and agreements to date and how success would be defined and measured. We reviewed the effort with the client's research team for insights into causes of attrition and customer needs, and discuss and establish success measurements.
I created a strong foundation for the strategy with a Competitive Analysis to understand the baseline experience necessary to compete and identified opportunities distinguish Elavon's brand experience from competitors.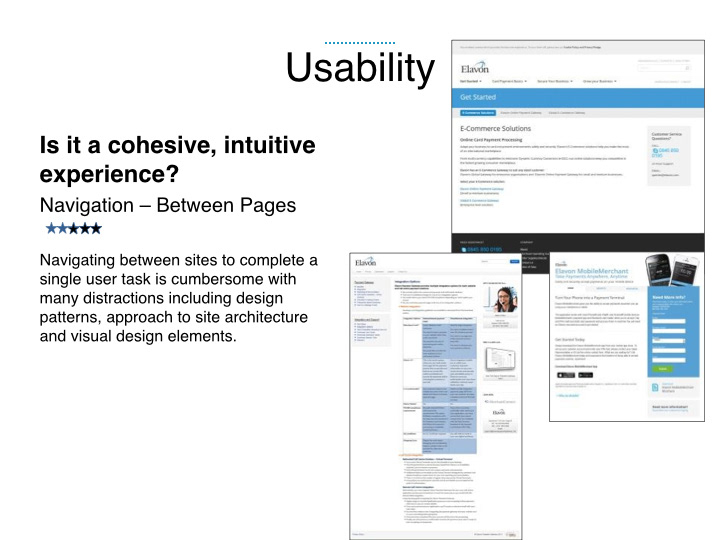 Meta-analysis of Elavon customer interviews and other POSSIBLE client research of the same target users revealed insights into user needs, challenges, and tasks. I represented findings in User Task Flows/Scenarios of Use and User Profiles.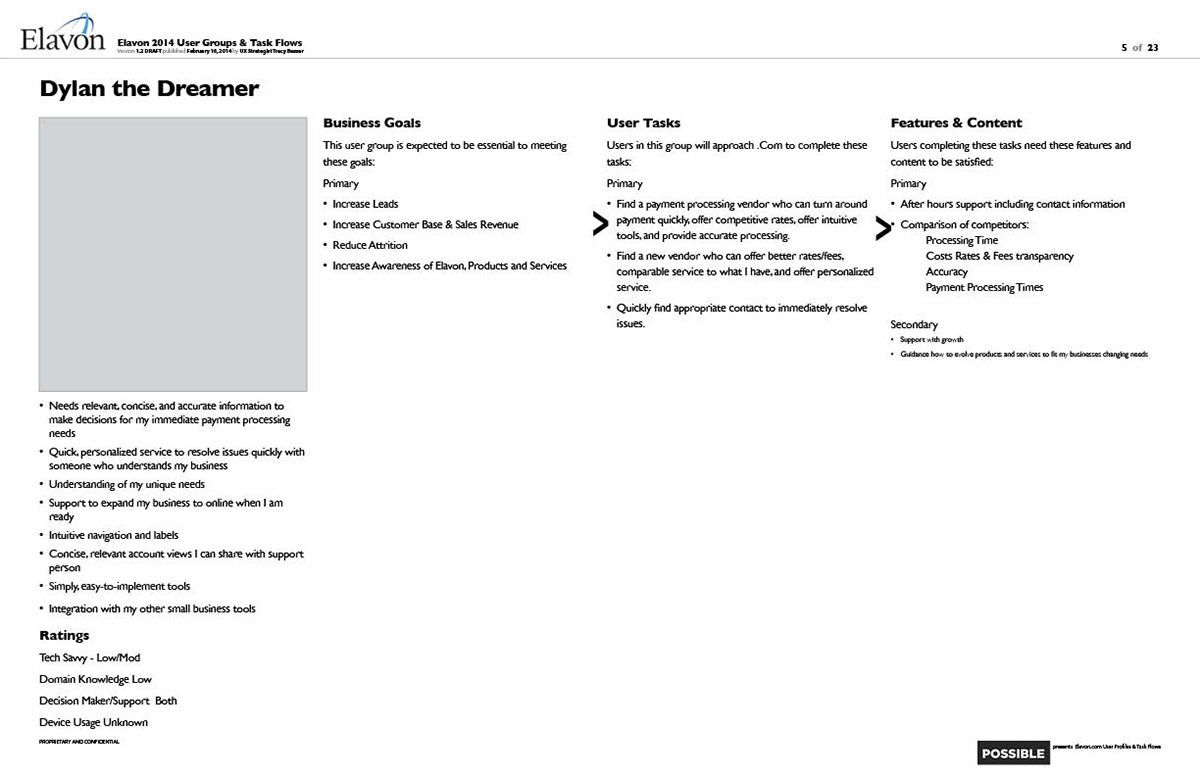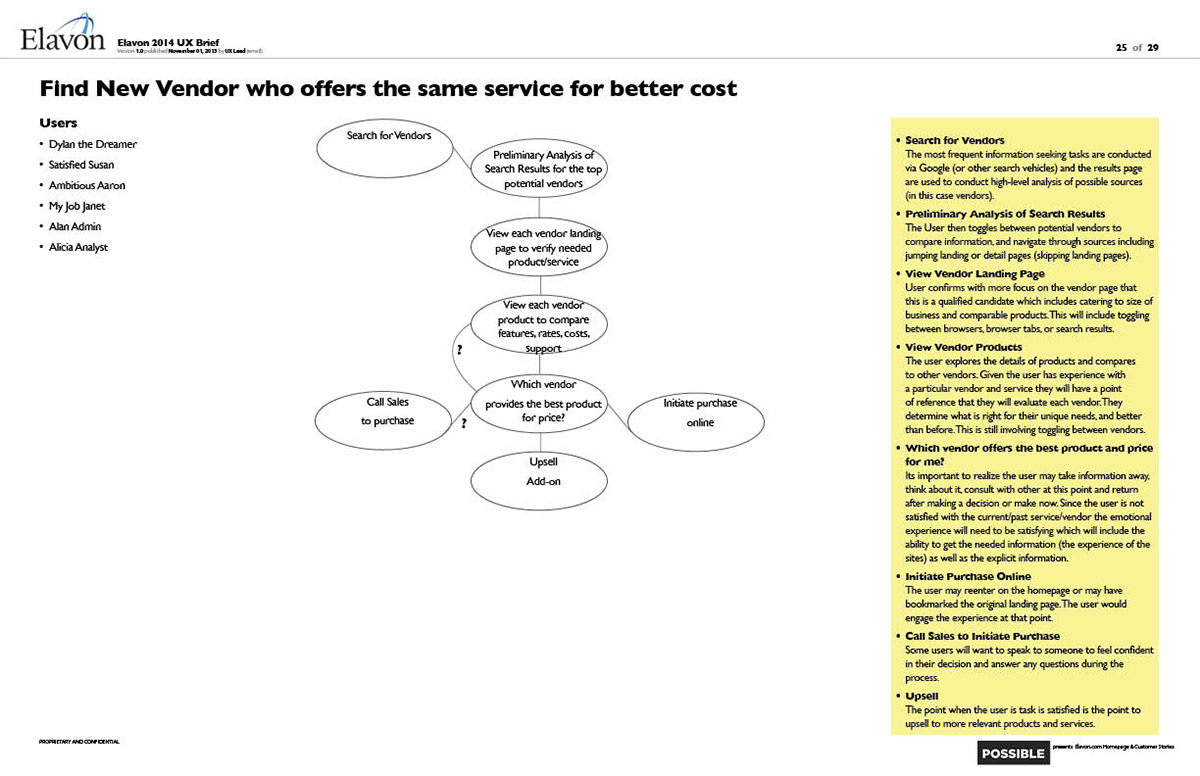 Evaluating the Current State
To understand the current performance I evaluated site analytics conducting cognitive walk-throughs with user profiles and tasks flows as well as usability heuristics to identify obstacles and explain the current performance as well as opportunities to improve the experience with improved design patterns and content.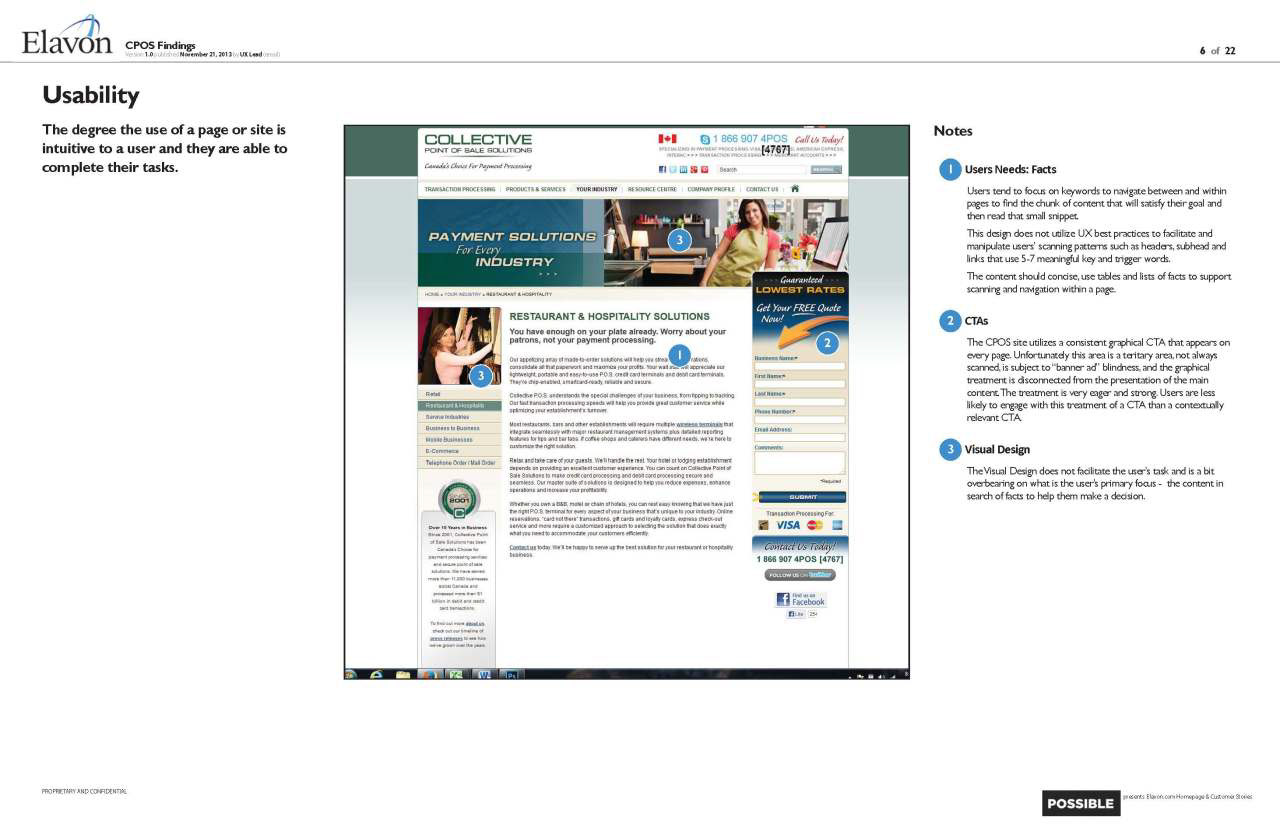 For a more detailed look at content, I conducted a content audit and inventory of all sites (US and International) gave more insights into the existing contents' quality and relevance (ROT).
I worked with account managers to explore how to best meet both user and business goals including increasing business, user satisfaction, and understanding of initial processes, reduce attrition, and increase acquisition.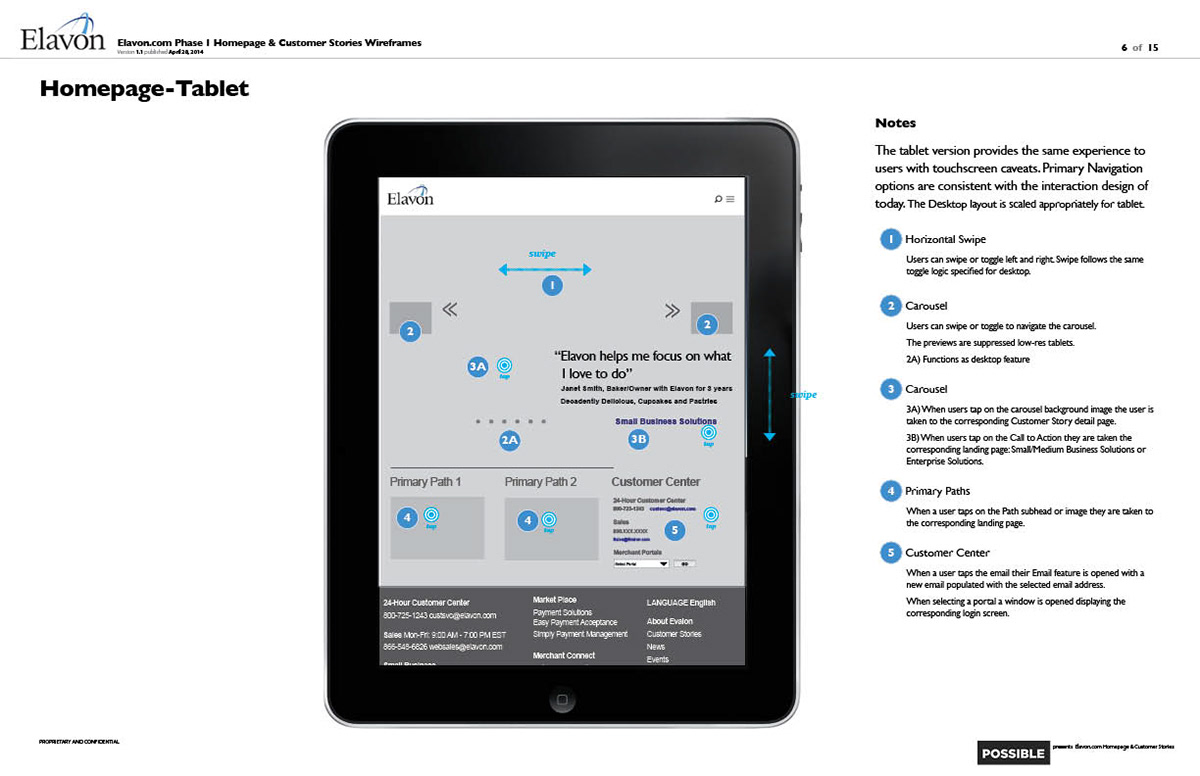 THE RESULTS
I synthesized our conclusions into a User Experience Strategy for the .Com to guide a cohesive effort over the next year between cross-department teams and ensure the realization of business goals; increase user satisfaction with the experience; and establish a foundation for expanding services. As part of the brand refresh, I designed the new section experience of Customer Stories to align with a brand refresh, aligning the feature/section to the users' interest in Elavon and their tasks – motivation for visiting the site.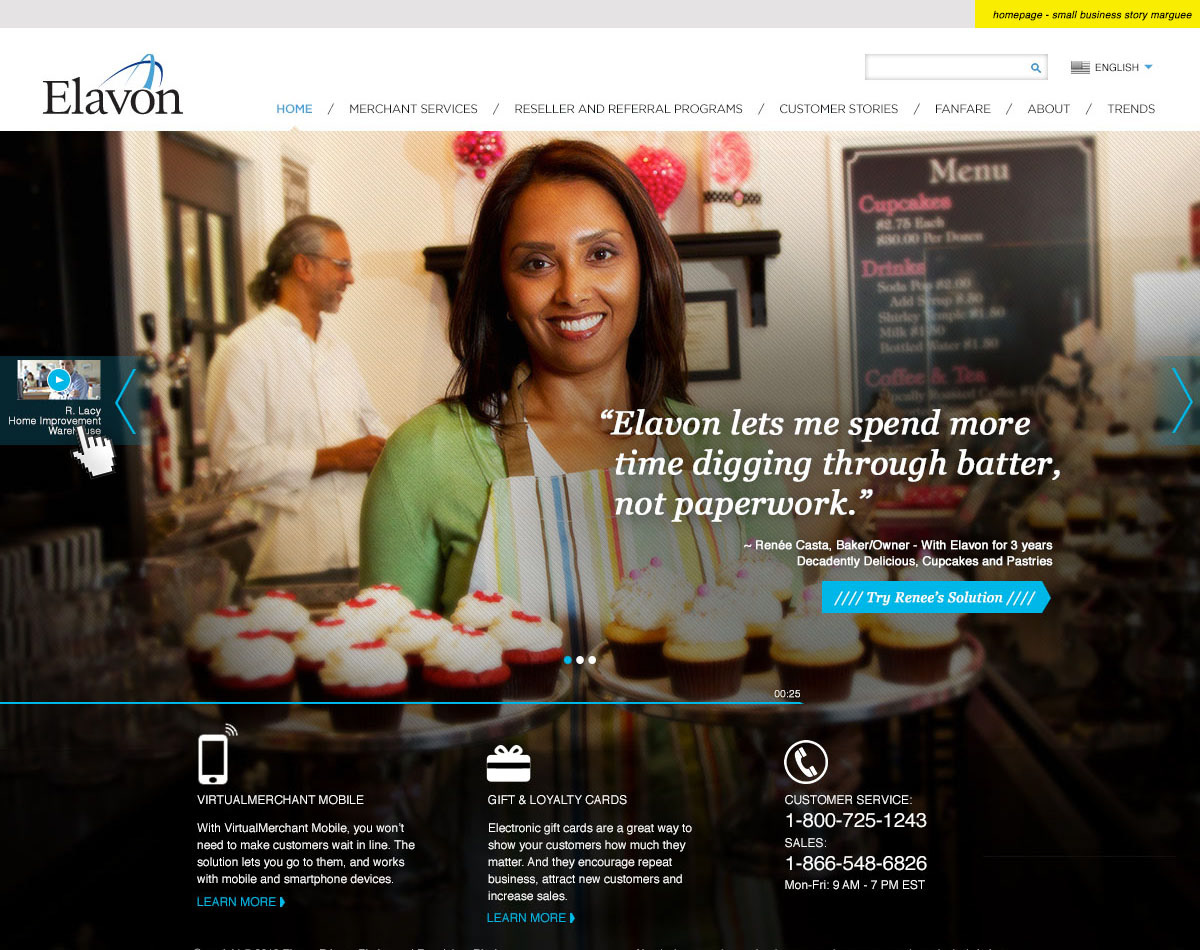 The client was inspired by this UX Strategy and asked for two additional projects, and requested a brief (High-level Strategy) for a new Welcome Center (portal) targeting new users with a primary business goal to reduce attrition with the first 90-days through improving customer service.
The Welcome Center brief included an evaluation of competitors' offerings, evaluation of the business process for new customers, and a gap analysis of the current new user experience (tasks) using defined tasks and personas.
The POSSIBLE Cincinnati team was able to harness the client's satisfaction and excitement to do additional user research and testing in the redesign.